The "hard-to-belie­ve qua­li­ty" from Schmitz
We stand by our word to bring man and animal into har­mo­ny with nature. To this end, we have brought tog­e­ther all those respon­si­ble in the pro­duc­tion chain, from rea­ring the ani­mals to the pro­duct range, at one table: far­mers, animal lovers, but­chers and, of course, the who­le­sa­le and retail outlet. We did not bring in our pigs, but of course, we went to their stables…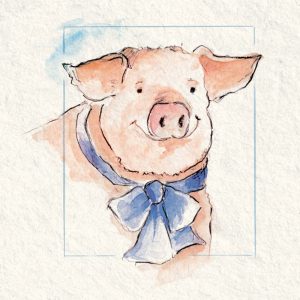 Our ani­mals come from owner-mana­ged farmer fami­lies for whom it is unders­tood that the manure pro­du­ced during pig far­ming is not scat­te­red indiscri­mi­na­te­ly over the fields. The nut­ri­ent balan­ce can prove this.
We avoid unne­cessa­ry transport!
The trans­por­ta­ti­on of a pig never takes more than four hours. We want the ani­mals to feel as little stress as possible.
We pro­du­ce transparently!
Our Schmitz farmer will be happy to show you his farm, on the Inter­net or in person on site!
We set our­sel­ves for a spe­ci­es-appro­pria­te attitude!
The small piglets are born free. This means that their mother is neit­her detai­ned nor con­fi­ned to a small area. Thus, not­hing stands in the way of health and care for their off­spring. Our sows do not recei­ve hor­mo­nes to regu­la­te their pregnan­cy. We trust in nature. During the suck­ling period, we pro­vi­de the right tem­pe­ra­te of their nest. The piglets live in a cove­r­ed piglet nest with a micro­cli­ma­te and straw to build their own nest. After the suck­ling period we all the pigs a per­fect stable con­struc­tion: lying and roo­ting areas with a lot of straw, sepa­ra­te fee­ding and excre­ment areas and a run out­doors or an open stable front. This always ensu­res a good cli­ma­te and an out­side view.
In addi­ti­on, as lovin­g­ly as our pigs are trea­ted when they grow up, the extra­or­di­na­ry sau­sa­ges and hams pro­du­ced by GS Schmitz are pro­du­ced tra­di­tio­nal­ly and by hand. With us you get hap­pi­ness that one can see, touch and taste. Con­vin­ce yourself!